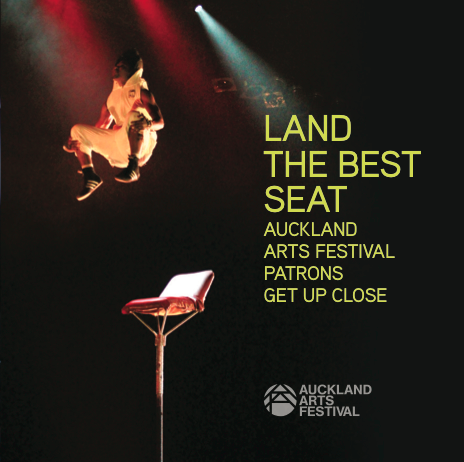 Auckland Arts Festival Patrons help sustain and enrich the Auckland Arts Festival and enable the Festival to bring life-changing arts and entertainment to people of all ages and backgrounds.
Patronage is crucial to a successful Festival and supports the delivery of a world-class Festival in Auckland - including free family events, a strong education programme, and the mentoring and development of our artists. Patronage is a great way to get closer to the Festival and Festival artists – a chance to be part of making Auckland a more vibrant and wonderful city to live in.
The Festival is a registered Charity (CC22145) and all donations over $5 with the exception of ticketing benefits are tax deductible.
Benefits all Patrons receive:
• Invitations to the Festival Launch and other exclusive invite-only events.
• Invitation to the pre-launch function with Artistic Director Carla van Zon.
• Complimentary tickets and access to an unlimited amount of discounted tickets to Festival performances of your choice.
• A personalised and preferential booking service through the Festival office.
• Acknowledgement in the programme and on the website.
• all Friends benefits

We offer five levels of Patronage. There is also the opportunity to join the Platinum/Director's Circle and get up and close with your chosen event or artist.
Jade Patron $1,000 (includes 4 complimentary tickets)      
Bronze Patron $2,500 (includes 12 complimentary tickets)                                      Silver Patron $5,000 (includes 24 complimentary tickets)
Gold Patron $7,500 (includes 30 complimentary tickets)
Platinum Patron $10,000+ (An artist or event-based patronage. Includes 40 complimentary tickets)
Additional benefits for Platinum Patrons
This level of Patronage enables you to direct your support towards a particular show, artist or artform. There is scope for engagement with artists and their work on a personal level and through behind-the-scenes experiences.
"The Festival always offers a stimulating mix of international and local performances which brings life to the city of Auckland. It is an opportunity to see shows that we would otherwise not be able to enjoy. Private Patronage is vital to keep the Festival growing. As Platinum Patrons we are looking forward to engaging more closely with one of the performances - what an opportunity!"
Jenny and Andrew Smith, AAF Platinum Patrons.
For more information email Paul Doughty, Development Manager -
09 309 0101.