16 February 2016
White Night 2016 mini-site is up!
White Night is back with even more free art, illuminations, workshops and performances than ever before Check out our new White Night mini-site for all the details, grab your family and friends and plan your path!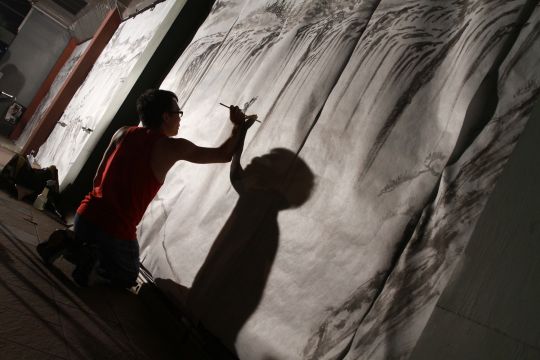 FREE!
SATURDAY 12 MARCH
6PM - MIDNIGHT
http://whitenight.aucklandfestival.co.nz/ 

With even more free art, illuminations, workshops and performances than ever before, Auckland Arts Festival's White Night 2016 is sure to be THE visual art event of the year.
Bringing art and audiences together throughout the region, Auckland Arts Festival's free Art Bus Tours are back by popular demand and better than ever. Take the bus from Papakura and experience White Night across Ōtara Fresh Gallery, Māngere Art Centre, Papakura Art Gallery and Pah Homestead.
Fancy a bit of entertainment with your travel? South Asian Theatre Company, Prayas, will give you a taste of Bollywood while you head out west. Starting with a tour of a working studio at Akepiro, you'll also take in a Drawing Degustation at Pah Homestead before heading on to Te Uru Waitakere Contemporary Gallery to see a diverse range of exhibitions. On the return journey, experience local White Night delights at K-Road and Ponsonby.
The Eclectic Express heads out east with the multi-award winning street-theatre performance group, White Face Crew. Travel to Te Tuhi Art Centre via Auckland Museum where you can contribute to Tiffany Singh's lantern installation. The next stop is Te Oro where a local guide will walk you through the Bradley Lane Night Gallery – featuring street art from world-leading practitioners.
Bookings for the free Art Bus Tours are essential, and can be made by emailing: whitenight@aaf.co.nz
If cycling is more your thing take part in a self led bike tour of White Night travelling from Canada Street, along the Lightpath to the Maritime Museum and then up to Queen Street to finish in The New Zealand Herald Festival Garden in Aotea Square.
Loving Auckland's new Lightpath? Catch an illuminated cycle show from the hot-pink tarmac then craft up a storm and contribute to islands of pinwheels taking over Canada Street and Mercury Lane.
From pinwheels to putiputi, don't miss artists Alexis Neal and Dagmar Dyck as they lead a workshop in flax flower weaving at Gus Fisher Gallery. A whimsical flower meadow installation will also be sprouting up at Scarecrow cafe. Dine around a large meadow centrepiece while filmed fields of flowers and an evocative soundtrack complete this scene of bucolic bliss.
The New Zealand Herald Festival Garden in Aotea Square will also host wild White Night happenings starting with Kim Ju Hong's Ensemble, Noreum Machi - a new wave Korean music group. Get into the swing of things and shake your booty with the 50/50 Dance Crew and their mix of bhangra, bollywood and hip-hop. Stick around for artist and illustrator extraordinaire, Steve Bolton, who creates a progressive, evolving illustrative artwork on giant perspex and chalk boards. Even better, drawing boards and materials will be available for anyone who wants to join in.     
Once you've finished your doodle masterpiece, get a bit old-school with new technology at Cameo Appearance, where your photo is transformed into a mini silhouette. Just like a photo, you can take your silhouette home or leave it on the wall to help build a Silhouette City.
If you need somewhere to chill with the kids, Auckland Art Gallery has a family drop-in centre. While you're there, catch the sweet sounds of NZ Trio and on nearby Lorne Street, students from Elam Art School will be taking over the Auckland Central Library, transforming the space into an impressive art installation.  
Lift your gaze towards the heavens at the Auckland Stardome Observatory & Planetarium, where there will be a telescope viewing of the moon and Jupiter to support artist Maddie Leach's St Paul's Gallery exhibition about a comet landing, From where she was standing. Space is also a theme in jeweller Nick Von K's street catwalk show, Glitter Runs in our Veins.Watch as spaceman Von K leads a procession of graceful and glittering followers, each adorned with larger-than-life-sized versions of his latest jewellery collection.
Want to take some art home with you? Transform your walls and buy a modern masterpiece at Silo Park's night art market then pop into Silo 6 to experience Kathrin Simon's Full Moon Kingdom where the secret and magical nightlife of Auckland Zoo is revealed with some seriously stunning photography. Afterwards, stroll along the waterfront to the Maritime Museum, where you can take part in a tape-art mural making workshop.
Finally, don't forget to follow White Night on Twitter: @WhiteNightAKL, Instagram: @AKLfestival and Facebook: facebook.com/Aklfestival 
SATURDAY 12 MARCH, 2016
6PM - MIDNIGHT
FREE!
http://whitenight.aucklandfestival.co.nz/