5 November 2015
AUCKLAND ARTS FESTIVAL 2016: VISUAL ARTS
Once again Auckland Arts Festival 2016 is proud to share a series of exhibitions and installations that celebrate the diversity and energy of Auckland's contemporary art scene. Take in a comprehensive survey exhibition of one of our most iconic artists FIONA PARDINGTON or witness art being made in front of you in AOTEA SQUARED as artists throughout the festival cross borders and collide cultures and practices in what will be a fabulous month of art.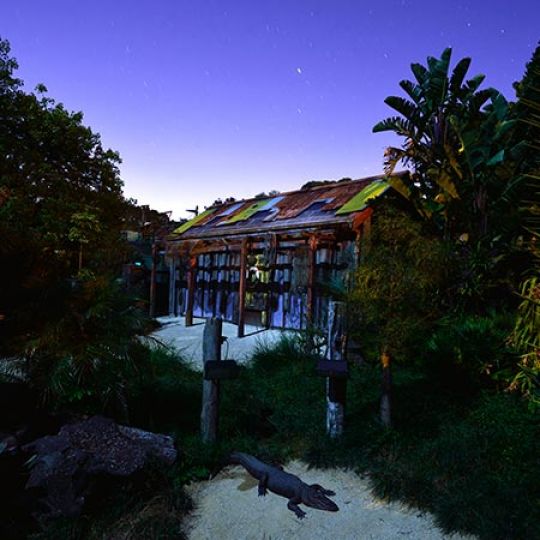 Headlining the Festival's visual arts programme is Fiona Pardington's survey exhibition A Beautiful Hesitation. Internationally acclaimed, Pardington's luminous photography has entranced audiences across the globe with its themes of death, sex, flesh and the female gaze. With more than 100 portraits taken over three decades, A Beautiful Hesitation runs from 27 February to 19 June at Auckland Art Gallery Toi o Tāmaki.
Across the city in the Wynyard Quarter, the vibrant and fully immersive Full Moon Kingdom reveals the secret and magical nightlife of Auckland Zoo. Taken on full moons over two years, photographer Kathrin Simon depicts the Auckland Zoo after dark, where images and colours glow in unexpected ways and a palpable sense of movement and life emerges from the nightlife. Running from 20 February to 20 March at Silo Park, the exhibition also features the works of poet Glenn Colquhoun, sound designer Emily Hakaraia and lighting designer Jane Hakaraia.
Again, Auckland Arts Festival brings stellar art and artists to the people with new work commissioned for the New Zealand Herald Festival Garden, in Aotea Square. Aotea Squared sees contemporary artists from TMD Crew -  Charles and Janine Williams, Benjamin Work and Elliot Francis Stewart - work live on large canvases in the Festival Garden, dreaming up urban artworks that explore our place, our people and our environment. See these artists at the forefront of a new wave of urban Pacific art create fresh masterpieces from the first shake of a spray can.
Another aspect of urban environments, the question of space, is explored in A Storage Problem – Martin Poppelwell. Ceramic objects are reworked into new configurations and placed within a 'storage unit', prompting the viewer to consider questions of placement and possession. This playful exhibition runs from 5 March to 9 April at Objectspace. At the nearby Artspace, The Bill marks the 30th anniversary of the Homosexual Law Reform Bill. Running from 4 March to 2 April, The Bill is a group exhibition featuring the work of artists born into a system where LGBT identities were marginalised,  and aims to explore shifting perspectives of queer identity in Aotearoa in 2016.
Down the road, three very different exhibitions take place at St PAUL St Gallery. Maddie Leach follows a curious historic narrative between a rock, a meteor and a missing plaque in small town Western Australia in From where she was standing (19 February – 24 March). In Dark Watch, Pauline Rhodes combines new photographic works of forms in the intertidal zone and a gallery installation to document rising sea levels, (19 February – 24 March) and in the Veiqia Project seven contemporary artists from Australia and New Zealand investigate the practice of Fijian female tattooing (15 March – 26 March).
Another three exhibitions take over PAH Homestead. A 'sampler' retrospective, spanning four decades of Richard McWhannell's work is offered in In My Own Time. Psychological and risqué, serious and playful, McWhannell's works will be on display from 26 January to 10 April. In Scape, Joseph Michael + Michael Hodgson, Olivier Jean, Jon Baxter and Puck Murphy respond to the untamed and magnificent Aotearoa landscape. Combining video, images and sound, this immersive exhibition runs from 2 March to 17 April. In Madeleine Slavick's Hong Kong Song the artist traces 25 years of living in Hong Kong and presents the poetry, poverty and generosity found there, (16 February – 17 April).
Across town at the Gus Fisher Gallery, Alexis Neal's installation Kōrero Tuku Iho; A Traditional Narrative, responds to tukutuku panels produced in 1954 by the Adult Education Department of Auckland University College, originally made to 'keep the traditions alive'. In Kofukofu Koloa, Dagmar Dyck pays homage to the fibre arts produced predominantly by Tongan women as well as the ceremonial status koloa maintain within Tongan society. Both exhibitions run at the Gus Fisher Gallery from 11 March to 9 April.
At the Papakura Art Gallery, Natalie Robertson presents large vertical panoramic black and white photographs of an expanse of driftwood at the Waiapu River mouth in Waiapu Kōkā Huhua: Waiapu of Many Mothers. On display from 6 February to 12 March, these photographs, positioned 'in conversation' with detailed video images reflect upon the environment and the impact of deforestation.
From 6 February to 20 March at the Māngere Arts Centre – Ngā Tohu o Uenuku, Survey/ Fa'aliga is an exhibition of video and performance artist Angela Tiatia's video works from 2008 to the present. Born in Otara and currently residing in Sydney, her work discusses the impact of globalisation on the Pacific as well as stereotypes of the Other and the use and misuse of femininity in mass consumer culture.  Another survey, Tautai/Navigate features the works of Louisa Afoa, Jeffrey Feeger, Robert George, Lily Laita, Reina Sutton, Angela Tiatia and Sheyne Tuffery,  and celebrates thirty years of the Tautai Contemporary Pacific Arts Trust. Navigating the realms of Pacific art and the walls of the 'white cube' gallery, the exhibition runs at Studio One Toi Tū from 29 February to Saturday 26 March.
Intersections between cultures also define the vibrant paintings of Bepen Bhana on display at Te Uru Waitakere Contemporary Gallery from 13 February to 15 May. In Frankie Goes to Bollywood, Bhana integrates traditional European painting practices with filmi graphic wallahs (billboard hoarding painters) in large-scale diptychs that place Bollywood stars in West Auckland locations. Also at Te Uru, from 27 February to 22 May, is Yuki Kihara's A Study of a Samoan Savage, which responds to the recent and problematic treatment of Pacific men as powerful but primitive players in rugby culture.  
 Art, of course, recognises no borders and in the beautifully hopeful No Man's Land composer John Psathas, film director Jasmine Millet and cinematographer Mathew Knight push the boundaries of performance and merge live and virtual experiences. In what will be an extraordinary performance on 4 March at the Auckland Town Hall, art and music are brought together to capture our differences, our similarities and our shared humanity.
From 2 March to 6 March, Carabosse Fire Garden also merges the borders between the visual and aural. A fantastical sculpture garden, this installation invites audiences to promenade through blazing landscapes accompanied by live musicians.  
Finally, one of the major art occasions of the season – the iconic White Night – returns on 12 March. From 6pm until midnight experience illuminations, live performances, artist talks as well as visits to artists' studios and intrepid art trips around the city in this free art extravaganza. With buses taking you in and out of the city, White Night is a great excuse to get out and experience art in your neighbourhood or further afield. The complete White Night programme will be made available on the mini-site www.aaf.co.nz/whitenight from February 2016.
Art for everyone!
Auckland Arts Festival 2016 runs from 2 – 20 March. The full programme is available online at www.aaf.co.nz
 The Auckland Arts Festival 2016 Visual Arts Programme is supported by Creative NZ, Chartwell Trust and Foundation North.
Auckland Arts Festival is core funded by Auckland Council.
AUCKLAND ARTS FESTIVAL 2016 VISUAL ARTS PROGRAMME DETAILS
A Beautiful Hesitation, Fiona Pardington
Saturday 27 February – Sunday 19 June, Auckland Art Gallery Toi o Tāmaki
Full Moon Kingdom, Kathrin Simon, Glenn Colquhoun, Emily Hakaraia and Jane Hakaraia
Saturday 20 February – Sunday 20 March, Silo 6, Silo Park, Wynyard Quarter
Aotea Squared, Charles & Janine Williams, Elliot Francis Stewart and Benjamin Work
Wednesday 2 March – Sunday 20 March, New Zealand Herald Festival Garden, Aotea Square
Survey/Fa'aliga, Angela Tiatia
Saturday 6 February – Sunday 20 March, Māngere Arts Centre – Ngā Tohu o Uenuku
The Bill
Friday 4 March – Saturday 2 April, Artspace
A Storage Problem – Martin Poppelwell, Martin Poppelwell
Saturday 5 March – Saturday 9 April, Objectspace
Tautai/Navigate
Monday 29 February – Saturday 26 March, Tautai Contemporary Pacific Arts Trust, Studio One, Toi Tū
Kōrero Tuku Iho; A Traditional Narrative, Alexis Neale
Friday 11 March – Saturday 9 April, Gus Fisher Gallery
Kofukofu Koloa, Dagmar Dyck
Friday 11 March – Saturday 9 April, Gus Fisher Gallery
From where she was standing, Maddie Leach
Friday 19 February – Thursday 24 March, ST PAUL St Gallery
Dark Watch, Pauline Rhodes
Friday 19 February – Thursday 24 March, ST PAUL St Gallery
The Veiqia Project, Margaret Aull, Torika Bolatagici, Donita Hulme, Joana Monolagi, Dulcie Stewart, Salote Tawale, Luisa Tora
Tuesday 15 March – Saturday 26 March, ST PAUL St Gallery
In My Own Time, Richard McWhannell
Tuesday 26 January – Sunday 10 April, PAH Homestead, TSB Bank Wallace Arts Centre
Scape, Joseph Michael + Michael Hodgson, Olivier Jean, Jon Baxter and Puck Murphy
Wednesday 2 March – Sunday 17 April, PAH Homestead, TSB Bank Wallace Arts Centre
Hong Kong Song, Madeleine Slavick
Tuesday 16 February – Sunday 17 April, PAH Homestead, TSB Bank Wallace Arts Centre
A Study of a Samoan Savage, Yuki Kihara
Saturday 27 February – Sunday 22 May, Te Uru Waitakere Contemporary Gallery
Frankie Goes to Bollywood, Bepen Bhana
Saturday 13 February – Sunday 15 May, Te Uru Waitakere Contemporary Gallery
Waiapu Kōkā Huhua: Waiapu of Many Mothers, Natalie Robertson
Saturday 6 February – Saturday 12 March, Papakura Art Gallery
No Man's Land, John Psathas, Jasmine Millet and Mathew Knight
Friday 4 March, Great Hall, Auckland Town Hall
Carabosse Fire Garden, Compagnie Carabosse
Friday 4 March – Sunday 6 March, Auckland Domain
White Night
6pm – Midnight Saturday 12 March, Various Locations
VISUAL ARTS SEASON DETAILS:
Information

Bookings

For No Man's Land and Carabosse Fire Garden, book at Ticketmaster outlets: www.ticketmaster.co.nz/ P: 09 970 9700 or 0800 111 999.

All other exhibitions are free of   charge, unless specified

Social Media

facebook.com/Aklfestival @Aklfestival

 

 

 

Media enquiries

Meredith McGrath, PR and Media  Manager Auckland Arts Festival

P:+64 (0)9 3740317 M:+64 (0)274473247 E: Meredith.mcgrath@aaf.co.nz